Copper3D, a Chilean and US-based 3D printing firm, employs nano-copper additions and adds antimicrobial qualities to polymers like PLA and TPU to make antibacterial 3D printed products. Copper3D, who have collaborated with NASA previously to explore microbiological hazards in space also started work on a project in their home in Chile.
According to UNICEF, the number of HIV-positive children and adolescents surpassed 3 million in 2017, with 430,000 newly infected persons and 130,000 deaths from AIDS-related causes. UNAIDS say cessation of therapy during pregnancy and lactation led in 26,000 additional HIV infections among children under the age of 14.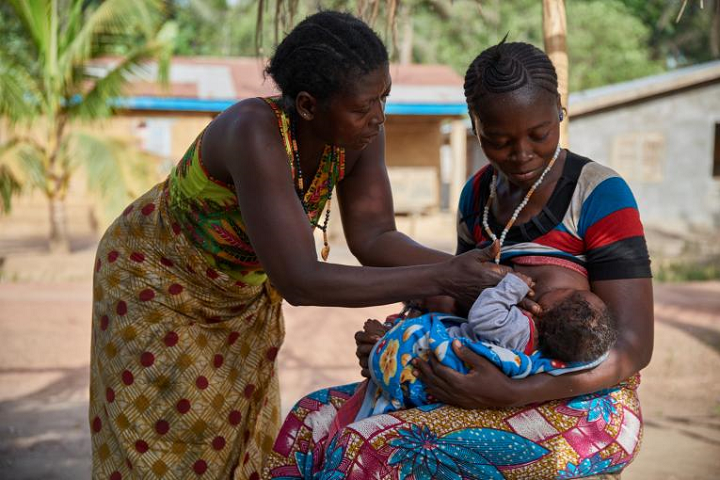 Despite this information, the World Health Organization says that 37.9 million individuals worldwide were living with HIV at the end of 2018, with 8.1 million of them having no idea they had the illness to begin with.
Copper3D has developed a 3D printed device using copper nanotechnology that can effectively inactivate the HIV virus on certain objects under the right conditions—a project that the startup's Director of Innovation Daniel Martnez describes as "the result of more than one year of research in antimicrobial polymers and the role on inactivating high replication rate viruses like HIV."
"Understanding the global problem behind the HIV statistics and analysing the role that our antimicrobial materials could have in containing the transmission of HIV virus led us to think that we could develop some kind of device that acts like an interface between mother and child to prevent the spread of this virus through breastfeeding, which is one of the main routes of infection." said Dr. Claudio Soto, Copper3D's Medical Director.
Copper3D, led by co-founders Martnez, Dr. Soto, and CEO Andrés Acua, began work on a project with "two lines of research," as the business noted in a release provided to 3DPrint.com. They filed a patent application for the idea, Viral Inactivation System for a Breastmilk Shield to Prevent Mother-to-Child HIV Transmission, last year.
The scientists first investigated the viral inactivation efficiency of its PLACTIVE material using samples of HIV-infected breast milk, and then built an item that maximizes "viral inactivation of HIV" in the milk, operating as a mother-to-child interface during nursing.
"…We will continue on the path of applied innovation, always thinking of playing an important role in the most urgent global healthcare challenges, where our antimicrobial materials, intelligent 3D designs, rigorous processes of technical validations and laboratory certifications, can generate a new category of antimicrobial/active devices that can avoid infections at a global scale and save millions of lives." stated Acuña.
To validate PLACTIVE's potential HIV viral inactivation capacity, the startup commissioned a proof-of-concept laboratory study at the Hospital Clnico Universidad de Chile's Virology Laboratory. The researchers used a split-sample protocol to test and treat 20 HIV-1 sub-samples (subtype B, cultivated from infectious clone NL4-3, with CXCR4 co- receptor).
The sub-samples were randomly assigned to one of three groups: "A", "B", and "Control". "A" and "B" samples were placed in either a green or blue 3D printed box, with and without the nano-copper additive; in order to conduct a proper blind study, the researchers did not know which was which.

"The preliminary results showed a reduction of viral replication up to of 58.6% by simply exposition of the samples to the 3D printed boxes containing copper nanoparticles. Fifteen (15) seconds of exposition were enough to achieve such a reduction. These data allow us to infer that by increasing the contact surface by a factor of 10X, we could obtain much higher inactivation rates, very close to 100% (log3) and according to our calculations, most probably in less than 5 seconds," explained Martínez.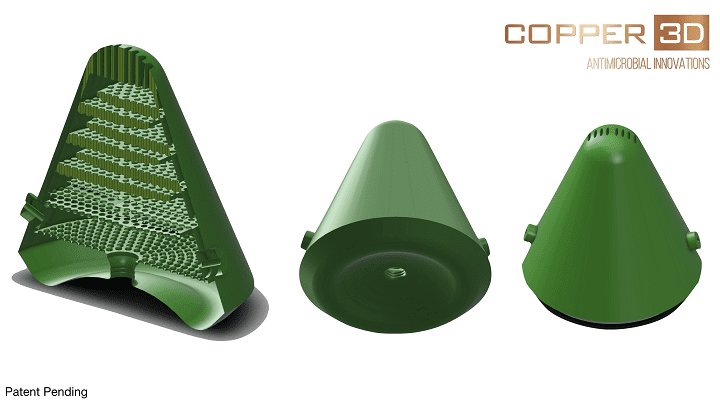 These promising results encouraged the team as they moved on to the second part of the study: designing a device for HIV-contaminated milk embedded in nano-copper for use during breastfeeding, with a surface of contact expanded 10x.
Copper3D's Viral Inactivator concept is to investigate how the antimicrobial capacity of its nano-copper materials affects HIV inactivation, as well as how different shapes and designs for the 3D printed device can increase the surface of contact with breast milk while using nano-copper to enhance effectiveness.
Here at 3DAPAC, we're proud to offer 3DCopper's PLACTIVE 3D Printing Filament for our customers to use. Contact us today to see if PLACTIVE is the right solution for you!