Face masks were in low supply during COVID-19, despite the fact that they are a basic necessity for the majority of the world's populations. The usage of these masks (or ones identical to them) on public transportation has also been advised by authorities in various locations. Although these masks are helpful, they nevertheless have a few drawbacks, including a poor lateral fit, a brief lifespan of just around 8 hours, and an even more serious issue. SARS-Cov-2 (COVID-19) and other respiratory viruses can survive for up to 72 hours on various surfaces.
This is a concern because, if we were to use a traditional mask, we would end up with a high viral load contained within millimetres of our mouth and nose, further exposing us to these harmful microorganisms.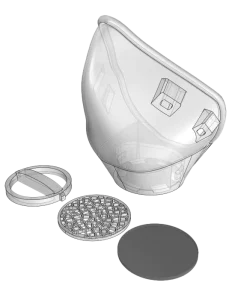 Produced using high-quality PLA and TPU with a patented, scientifically validated, and highly effective nano-copper based additive. Copper3D developed PLACTIVE® and MDflex®, two novel nanocomposites. This mask is available for use whenever you like. The ecosystem will suffer as a result of the rising use of single-use surgical masks and N95 respirators. NanoHack is also constructed from recyclable materials to minimize this negative impact on the environment!
NanoHack, the open source mask.
NanoHack 2.0 has a PLACTIVE® monoblock construction for maximum protection from the outside environment. In contrast to other ideas, NanoHack 2.0 is made to be a sturdy and hermetic structure that is sealed with a rim of antimicrobial TPU called MDflex.
The modular filtration system used by NanoHack was created using a copper nanocomposite polymer. This innovative active filtration system also features three non-woven layers of propylene embedded in nano-copper and has space for additional filtration components.
NANOHACK Technical Considerations
The NanoHack Mask is a last-resort tool designed to shield users from airborne contaminants and stop liquid from spreading into the airways. According to published data, the non-woven polypropylene used by NanoHack (also used in surgical masks) achieves a filtration efficiency of 96.4% for microorganisms of 1 micron and 89.5% for microorganisms of 0.02 microns.
According to previously published research, the high viral load that persists in surgical masks and respirators can serve as a vehicle for viral transmission to both the wearer of the mask or respirators and to others. This could occur if medical personnel handle their mask without thoroughly washing their hands afterward, or if they dispose of the mask improperly.
Additionally, surgical respirators can shed pathogens onto patients, raising the danger of nosocomial infections. Thus, the copper nanocomposite used in the NanoHack Mask has been shown to have antimicrobial properties. The polymer used is recyclable and biocompatible.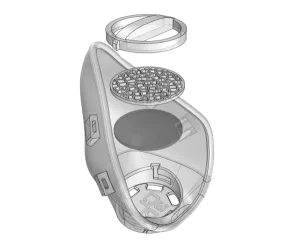 Antiviral Activity of Copper
Because copper has a high antimicrobial (antiviral and antibacterial) potential and can inactivate viruses like SARS-like and SARS-CoV, influenza virus, H1N1, and dangerous bacteria like Staphylococcus aureus, Escherichia coli, and Listeria, among others, after a short period of exposure, Copper3D's PLACTIVE® and Mdflex® could be an efficient and affordable treatment for SARS-CoV, influenza, and other respiratory transmissions.
Filtration System of NANOHACK
In the study conducted by Borkow et al. (2007)1, a 2.5 cm filter with a top layer of 500 mg of non-woven polypropylen impregnated with 5% copper oxide particles and a thickness of 2 cm was created. As a control in this study, non-woven polypropylene was made without copper.
Virus titers were significantly reduced following diffusion through filters made of copper oxide, ranging from 0.47 log10 to 4.6 log10 depending on the virus under study.
This study's findings support the notion that a non-woven fabric filter impregnated with copper oxide can produce filtration of a variety of viruses, including respiratory viruses, as shown in the attached table.
The Purpose of the NanoMask
The mask is not a N95 one. Because it is a face mask, it shouldn't be regarded as PPE.
Intubation, mechanical ventilation, fiberoptic bronchoscopy, and similar techniques cannot be used to manipulate the airway, therefore if you are a healthcare practitioner, you should only use it as a last resort.
The non-woven filter needs to be changed once day and should only be used for a maximum of 8 hours.
You should wash your hands after touching the active filter and take the precautions that the health authority has advised.
Since Nanohack is a polymer-based device, we suggest printing the outer rim in MDflex® (a TPU-based material) and the monoblock structure in PLACTIVE® (a PLA-based material).
You may have a comfortable mask with a good seal with this set up.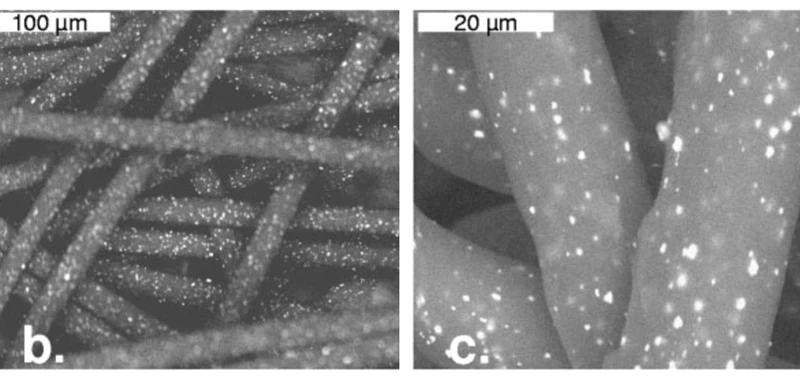 Want to use Copped3D's PLACME or MDflex in your business? We offer a wide range of Copper3D filaments and materials for your 3D printing journey! 
Can't find the solution for your problem? Contact us today so we can help discuss the issue and solve it for you!